Welcome to the Love in Action Challenge!
Get

ready for a virtual race across Tanzania! Raise awareness and funds for Shade as you exercise. Create or join a team today and gear up to compete in May.
Your team will begin on the Shade Campus in Shinyanga and try to reach the Serengeti National Park - 209 miles away - between May 1st and 31st.
You're not limited to running or walking! Most activities can be converted into miles and move you along the route. Think biking, yard work, exercise classes...even volunteering can count (see below for a complete list)!
Here's a preview of our virtual route. As you log in exercise, you'll see your team advance!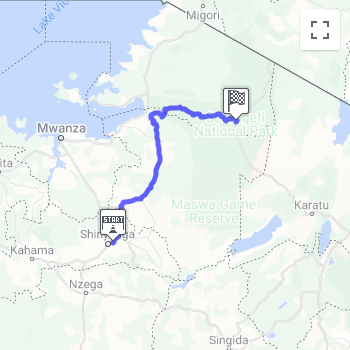 We have a goal of raising $25,000 to support inclusive education at Shade School during this Challenge. After signing up, share your fundraising goal and invite people to donate or join your team.
Don't want to exercise but still want to help? Donate to a specific racer, a team, or split your gift among all participants to encourage them!
Want to know more about Shade? Check out this video.
www.shadetz.org | contact@shadetz.org
P.O Box 398, Great Falls, VA 22066
Here's a list of eligible activities that can be converted to miles during the race: Aerobic dancing class, Aerobic fitness class, Aerobics, Barre, Baseball, Basketball, Bicycling, Bowling, Boxing, Children's playground game, Circuit training, Dancing, Elliptical trainer, Fishing, Football, Frisbee, Golf (carrying clubs), Golf (powered cart), Hockey, Horseback riding, Household work, Ice skating, Judo & Karate, Jumping rope, Kayaking, Kickball, Kickboxing, Lacrosse, Pilates, Playing outside, Racquetball, Rock climbing, Rollerblading, Rowing, Rowing machine, Rugby, Sailing, Scuba Diving, Shade advocacy, Shopping, Skateboarding, Skiing (cross-country), Skiing, Sledding, Snowboarding, Snowshoeing, Soccer, Softball, Spinning, Stair climbing, Stretching, Surfing, Swimming, Table tennis, Tae Kwon Do, Tai Chi, Tennis, Volleyball, Volunteering, Water aerobics, Water skiing, Weight lifting, Wheelchairing, Wrestling, Yard Work, Yoga